Christmas Code Breaker At Classic
Event location
Classic Harley-Davidson
983 James Drive, Leesport, PA 19533
December 17, 2022 10:00AM - December 17, 2022 2:00PM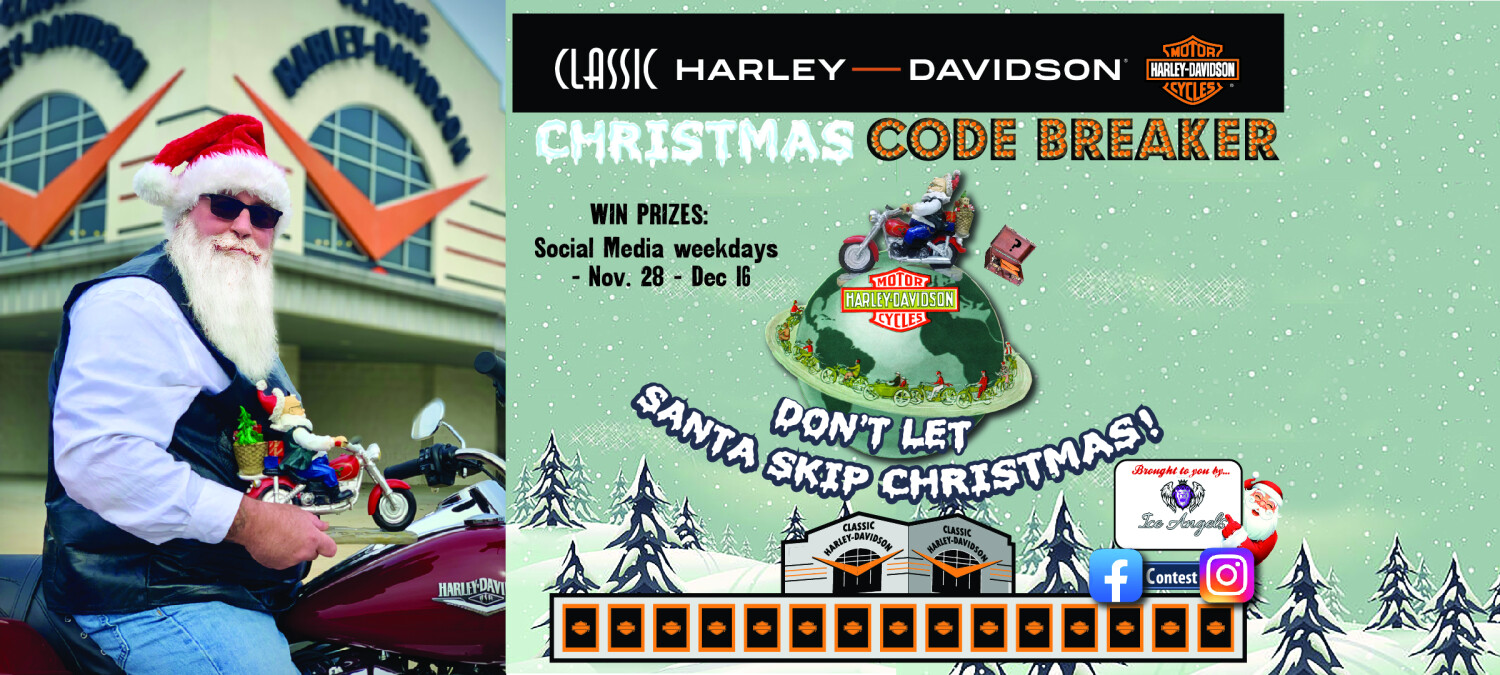 Well, it's that time of year again.  WE NEED YOUR HELP!
Santa's fed up!  He's had enough!  He's been keeping tabs on who's been naughty and who's been nice and he's just sick and tired of it.
In fact, he's threatening the Reading Royals Ice Angel ELVES to go on vacation a week early and not deliver the toys they've made.  He's given them a riddle saying, "If you can figure out where I'm going on vacation before the Christmas Code Breaker Party at Classic on Saturday, December 17th, then I'll wait another week and deliver gifts to everyone on Christmas."
Tune into Facebook and Instagram weekdays from Monday, November 28th to Friday, December, 16th to see if you can solve Santa's riddle.  Each day the Ice Angel Elves will feature a letter that is part of the puzzle as to where Santa plans to go on vacation.  All you have to do is comment the "Letter", "LIKE", and "SHARE" the post.  
Those who do will be automatically entered to win the grand prize (a full Harley-Davidson Tailgate / Picnic set) at the Christmas Code Breaker party.  Each day one luck guesser will be randomly selected to win a $5 Wawa gift card and a Classic Harley-Davidson Christmas ornament!
CHRISTMAS CODE BREAKER PARTY:
Saturday, December 17 - 10:00 - 2:00. 
- This is the party that takes the "Stress" out of Christmas!  Come out and let loose, kick back, and have fun!
This year's Code Breaker Grand Prize is a full Harley-Davidson Tailgate / Picnic set featuring a Harley-Davidson tailgating tent, a Yeti-style cooler, Grill with Harley grill set, and Harley folding chairs ($400 Value).  Those who comment, Like, and Share will also have a second chance to win $300 cash....and oh yeah, someone will take home the Santa "Riding the Harley" Statue! 
- Want a second chance? Run out front and take the Polar Plunge in the Ice tub!
*Must be present to win.
Wear your craziest sweater or holiday outfit for gag-holiday prizes!
Play Games such as Putt for a gift cards.
We'll have Festive Beverages and our specialty food from Code Breaker Parties - past...Santa Sausage, Reindeer Meatball Sandwiches, and Elf Chili!
Say hi to the Reading Royals Ice Angel Elves and Santa himself.  Come out and get into some real Christmas spirit at the Classic Christmas Code Breaker party.