WE'VE GOT A COURSE TO MATCH EVERY RIDING ABILITY
PAMSP BASIC RIDER COURSE

(MOTORCYCLE LICENSING COURSE)

When signing up for class you MUST have your motorcycle permit and permit number!
To see the classes available at Classic you must filter the results on the webpage. To do this scroll until you see the "Location" filter.
There you will select "PA-LEESPORT-CLASSIC HARLEY..."
---
There are 2 basic rider courses. BRC1 and BRC2. BOTH CLASSES WILL ENDORSE YOUR MOTORCYCLE PERMIT IF YOU PASS
Here's the difference
Basic Riders Course 1 (BRC1)
The best place to start once you've made the decision to ride. Covers the basics of operating a motorcycle and safety-oriented mental strategies. Motorcycles are provided for your use. Successful completion of this course will endorse your motorcycle permit. The course may also earn you an insurance discount.
Basic Riders Course 2 (BRC2)
For riders who already have basic skills. Similar to the BRC except speeds are higher and you should be on your own motorcycle. An excellent refresher course for practicing and renewing riding skills. Includes an informal classroom component for discussing safety concepts based on past riding experiences and current knowledge. If you do not need the license waiver component (no classroom activities and no knowledge or skill test), there is a "Skills Practice" offering.
Never ridden before? Don't sweat it. The Motorcycle Safety Foundation Basic Rider Course is designed to get you comfortable on a bike and give you the skills you need to ride with confidence. 
This course is made up of two parts. First, classroom-style instruction online. Then ten to twelve hours of hands-on riding exercises in a controlled, off-street environment on our newly paved training course. Basic Rider Courses run typically 2 days. Motorcycles are provided free of charge for your use during the course. For the online portion, you'll learn about the different types of motorcycles, layout and operation of the basic controls, and how to become a safer, more responsible rider. You'll then move to the riding range where your MSF-certified RiderCoach will guide you through the basic skills of straight-line riding, stopping, shifting, and turning, gradually progressing to swerving and emergency braking.
When you pass the riding skills evaluation you will receive an endorsement on your motorcycle permit making you a licensed to ride a motorcycle.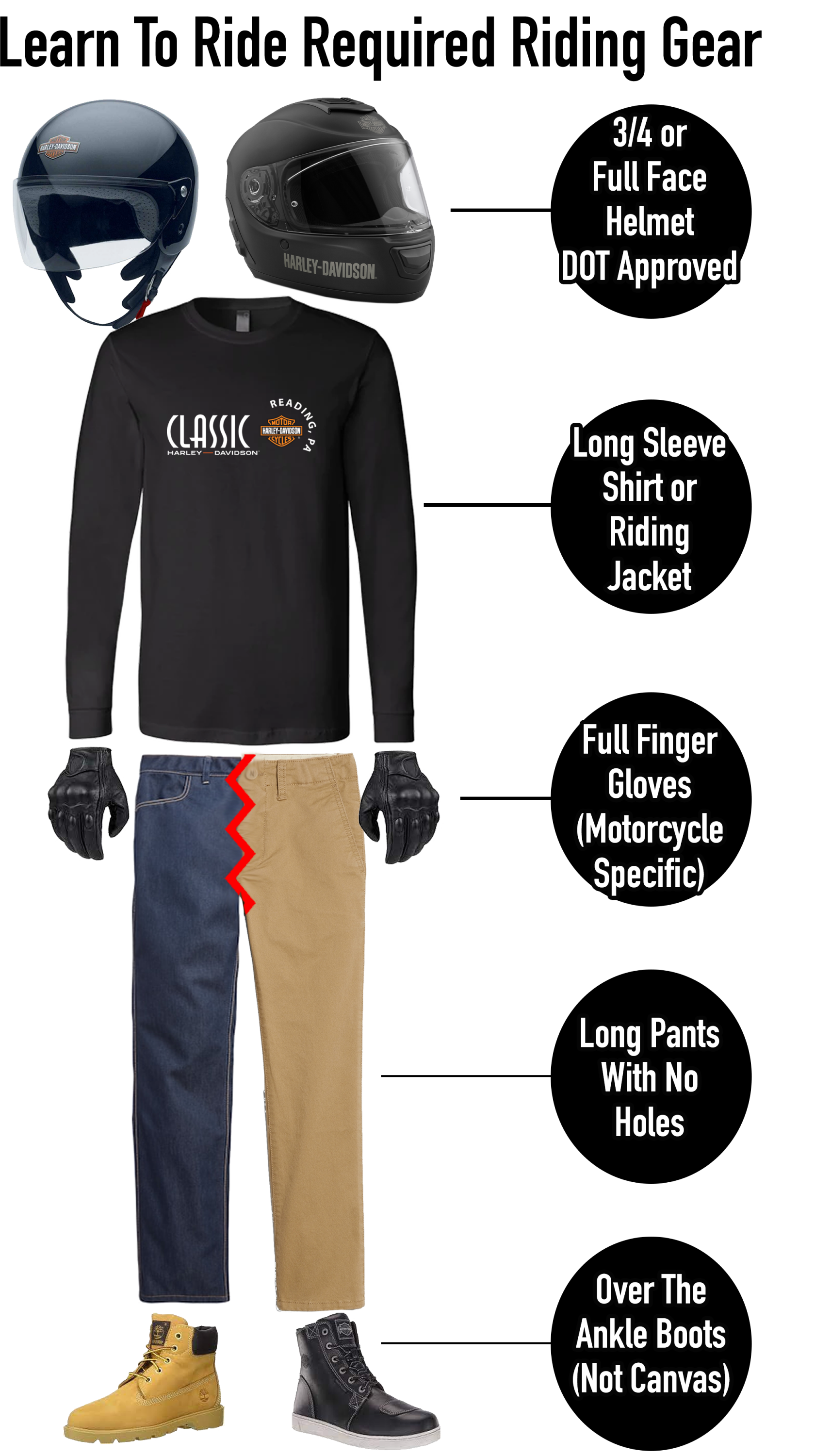 LEARN TO RIDE FAQ
- How much does the Basic Rider Course Cost?
The Basic Rider Course is FREE!
- How long are the Basic Rider classes?
The online portion of your class should take around 6 hours at home on your own time. The 2 range days will be roughly 6 hours each.
- Do I use my own motorcycle or need to buy a motorcycle for the course?
No, the Basic Riders Course uses motorcycles provided by the state. These motorcycles will range from 125cc to 500cc.
- What do I need to take the Basic Rider Course?
Your motorcycle learner's permit, a full face or 3/4 DOT certified helmet, long sleeves, jeans (with no holes), boots that cover the ankle, and full finger gloves. If you do not have any of these items they are available for purchase at the dealership.
- How do I get my motorcycle learners permit?
Stop by your local DMV and ask to take the motorcycle learners permit test. If you pass the computer test you will be given an eye exam. If both are passed you will pay $10 and receive your permit that is good for 1 year!
- My permit is expired can I get a new one?
Yes! You can retest for your permit 3 years in a row. If you do not get your motorcycle license in those three years there is a waiting period before you can test to get your permit again. PennDOT has done this so riders can't continue renewing their permits year after year and never get their license.
- I am under 18 years old, can I take the Basic Riders Course?
If you have your motor vehicle drivers license (or permit) as well as your motorcycle riders permit you can take the Basic Riders Course. If you are under the age of 18 you must have 6 months of riding experience prior to getting your motorcycle license. If you take the Basic Riders Course prior to your 6 months of practice you will NOT receive an endorsement on your learners permit. You will have to come back once you are 18 or older OR have completed 6 months of riding practice with a licensed motorcycle rider. 
---
SKILLED RIDER - RIDE LIKE A PRO COURSE
Have you ever seen a motor officer handle a motorcycle? Thought it would be cool to be able to ride with the same confidence and skill as a professional? You can also ride your motorcycle without the fear of dropping it or worry about making a tight radius turn to get into a parking space. Be the cool guy at the rally riding with confidence (not wearing out the bottom of his or her boots)!
PRO RIDER - LOCK N LEAN
Lock & Lean Precision Motorcycle Riding, LLC is PROUD to announce a FULL precision motorcycle riding training schedule.  If you are a Civilian rider who wants to learn the 101 of Police Precision Motorcycle Riding Techniques through the most advanced levels of riding, go no further. Our unique curriculum and talented staff of instructors are dedicated to making you the best rider you can be.